Interfaith activity is the corner stone of any society to build mutual understanding and friendships.  We are proud to have supported and engaged many people to set up dialogue activities and groups.
Several dialogue groups and interfaith projects have been established, over the years.  This includes the St Philip's Centre, which has grown with the participation of many LCOF members.
The World Congress of Faith
The World Congress of Faiths is an Individual Membership Charity made up of members of all faiths, and none, who have an interest in spiritual dialogue and learning.
Some of the City's other interfaith activity is shown below.  If you want to promote your activity here please contact us.
Interfaith Dialogue groups
Interfaith dialogue refers to cooperative, constructive, and positive interaction between people of different religious traditions (i.e., "faiths") and/or spiritual or humanistic beliefs, at both the individual and institutional levels.  Throughout the world there are local, regional, national and international interfaith initiatives; many are formally or informally linked and constitute larger networks or federations. The often quoted "There will be no peace among the nations without peace among the religions. There will be no peace among the religions without dialogue among the religions" was formulated by Hans Küng, a Professor of Ecumenical Theology and President of the Global Ethic Foundation. Interfaith dialogue forms a major role in the study of religion and peacebuilding.
The increasing religious diversity of the UK means that inter faith engagement is ever more important. The conversations that take place between people of different faiths and beliefs are at the heart of this.
It is through talking to one another that we begin to explore, understand and eventually act. Such conversation, or 'dialogue', is a vital part of building the mutual respect, understanding and cooperation that benefits all.
Local Interfaith Groups bring people of different faiths together in dialogue to discuss current issues, historical problems or matters of local concern. Below are some of Leicester's Interfaith Dialogue groups:
Cross and Crescent group
Council of Christians and Jews
Human Values Day Walk with Values
Human Values day takes place in April every year.  It is a non-monetary walk (walkathon) to raise awareness about the values buried within each of us, values that are the very core of our human nature.  The five main human values, as identified for us by Sathya Baba are:
Love: caring, compassion, forgiveness, enthusiasm, devotion.
Peace: contentment, humility, patience, self-confidence, self-respect.
Truth: honesty, integrity, optimism.
Non-violence: gentleness, consideration, co-operation, equality, cultural respect.
Right-conduct: gratitude, perseverance, determination, responsibility, sacrifice, courage, duty and ethics.
Inter faith Week
Inter Faith Week always begins on Remembrance Sunday, and runs until the following Sunday each year.  Inter Faith Week's aims are to:
Strengthen good inter faith relations at all levels
Increase awareness of the different and distinct faith communities in the City, in particular celebrating and building on the contribution which their members make to their neighbourhoods and to wider society
Increase understanding between people of religious and non-religious beliefs
LCOF usually host a food festival, but due to Covid-19 restrictions, 2020 we had to do something different. We hosted, via Zoom, a special meeting of people who spoke about how their faith/scripture was helping them to cope with COVID-19. There were 31 attendees, who heard a short presentation from 7 different faith representatives including Bhai, Buddhist, Christian, Hindu, Jain, Muslim and Sikh faiths.
There were some very personal and moving experiences shared and the feedback from the group, was that it was a positive meeting which gave a really sense of unity.
Multi Faith Iftar
Every year, at the end of the holy month of Ramadan, AK Gheewala, the committee and the congregation of Masjid Al Falah Mosque, open their doors and host a multi faith Iftar (Fast Breaking).
A meal is held to enhance friendships between Muslims and people who follow other beliefs.  This meal is attended by the City and County Council civic dignitaries, statutory authorities and representatives from many other different faiths or beliefs.
Suleman Nagdi, spokesperson for the FMO said "In an uncertain world, we can do our bit through communal meals, dialogue or other engaging activities to help build bridges across all our communities".
Visit My Mosque Day
Visit My Mosque Day is a yearly event that sees mosques across the City open their doors to people of all faiths.
The aim of the annual event is to welcome individuals of various backgrounds to learn more about Islam, all the while forging stronger connections between different religious communities.
The initiative has grown substantially over the past few years, with more than 200 mosques across the UK set to take part in the annual event.
Holocaust memorial day Commemoration
Leicester Council of Faiths, together with the County and the City Council & the University's Stanley Burton Centre for Holocaust & Genocide Studies, are the sponsors of the City's annual Holocaust Memorial Day Commemoration, held on the 27th January each year.  
Normally, this annual event is held in the University's Fraser Noble Hall, but this wasn't possible for 2020 or 2021 for obvious reasons. Instead this was held as a a virtual commemoration – please see attached for 2021's event details.
Women's Interfaith group 
includes women from Christian, Baha'i, Hindu, Muslim, Jewish and Buddhist faiths.
These gatherings are hosted in the ladies homes, they take turns and invite their friends.  A topic on a Faith issue is agreed and each representative gives few minutes presentations, followed by discussions and they share a vegetation meal (each ladies brings a dish to help the host).  These meetings help the ladies to learn more about other faiths and communities and create a united and safe environment for everyone who takes part.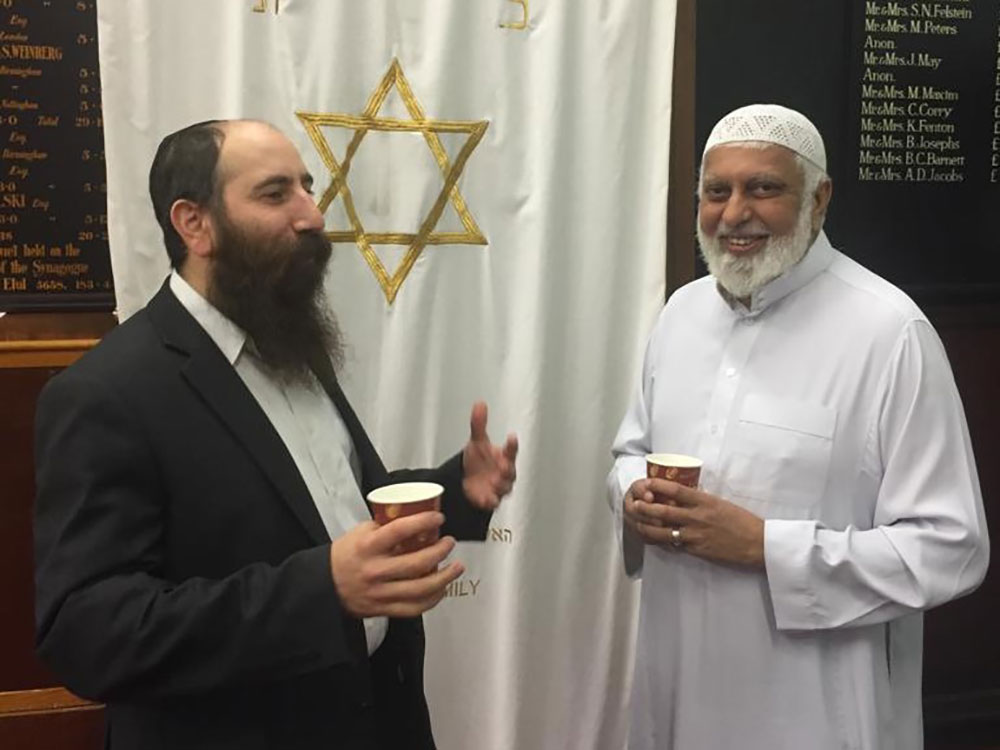 Hate Crime Awareness Week
Photo: Rabbi Shmuli-Pink (L), Suleman Nagdi (R)
The last 6 months have been a testing time for Leicester, and for the country as a whole. Covid-19 continues to change how we live, in ways we would scarcely have found imaginable at the start of 2020.
Eid was cancelled, leaving many disappointed. We have had to keep our distance from friends and family. Some of us have lost loved ones.
Isolation, uncertainty and stress have been unavoidable by-products of the pandemic. The additional lockdown measures currently in place in Leicester have only heightened this further.
Despite all of this, it has been heartening to see the heroic efforts of many in the community to support the most vulnerable and isolated.
Sadly, this positivity hasn't been universal. Over the last few months we have also seen an increase in hate crime directed towards certain communities. Fear and anxiety have been manipulated to stoke anger and division through lies and misinformation.
It is unacceptable and it must stop.
During Hate Crime Awareness Week FMO is continuing our work with the hate crime unit of Leicester Police, including showing support for communities across Leicester as part of the pledge photo initiative. FMO are here for you if you have concerns or have experienced abuse. You can also find help with Stamp it Out.
We would also urge anyone who has been the victim of a hate crime, or has witnessed a hate crime, to report it to the Police Hate Crime Officer, Isla Dixon at isla.dixon@leicestershire.pnn.police.uk.
This is not the time to increase division and hate. This is not the time to generalise the actions of individuals to their communities. This is the time to support each other, and to listen to each other.
So this Hate Crime Awareness Week, I have a simple message for all of Leicester – Hate has no place in our city. Not now. Not ever.
Suleman Nagdi